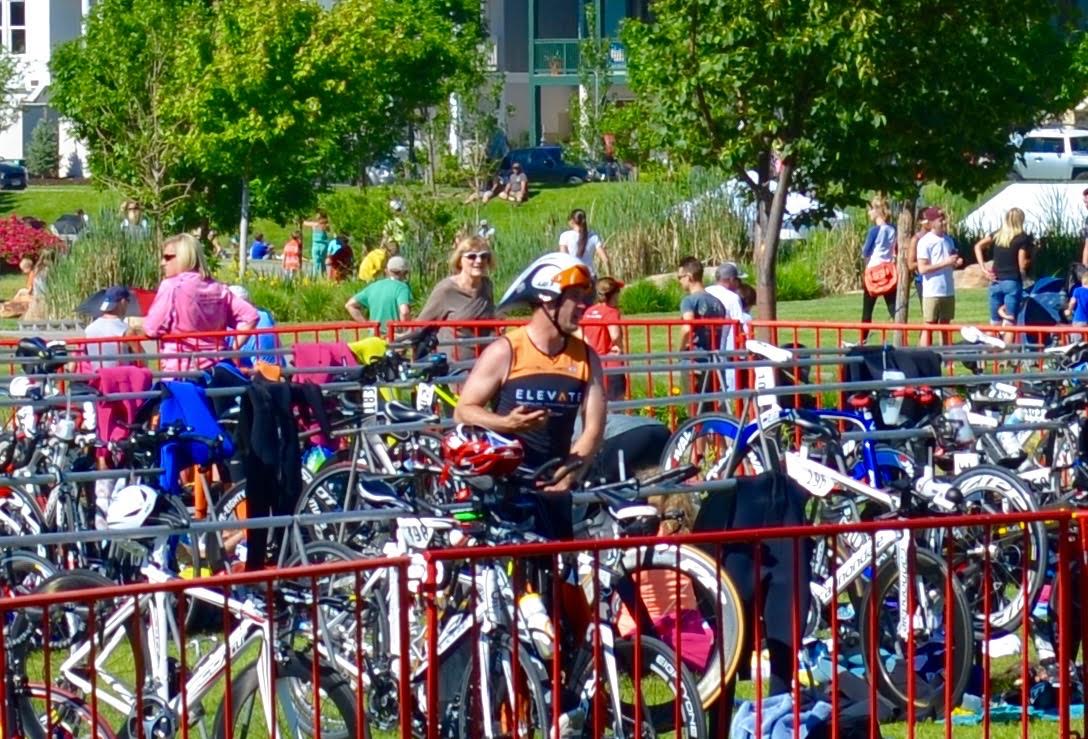 Triathlon #2 – Daybreak. Moving up the ranks.
June 3, 2016
The morning starts way too early. I reset my alarm and made the conscious decision to get a little more sleep and not to arrive at the designated time of 6:00 a.m. just to pick up the timing chip. Because the Sprint distance doesn't start until 8:30 and the briefing meeting starts at 7:30 I decide to sleep until 6:50 which gives me enough time to get there and set up.
Once I awaken I throw on my gear and zip up I-15 to Daybreak for the start of my 2nd triathlon. I knew that this would be a great venue when I picked up my packet the day before. Daybreak is a little Utopia with everything you would ever need. Lakes, trails, parks, little shops and beautiful landscaping everywhere. I arrive and parke in the dirt field near the corrals. They have just started the briefing meeting as I pull my bike out of the back seat of my Camry (yes it fits back there) and re-assembled it quickly. I felt a little stress because I am a little bit later than I had wanted to be. I trot over to the corral pushing my bike beside me. It's a little hectic finding a place to setup because all of the racks are filled or at least all of the grass below the racks are filled. I finally ask some people on the first row right at the opening of the transitions if I could squeeze between them. They are gracious and let me in without a problem. I quickly unpack and make sure that both pairs of shoes are laid out (and socks), my hat and glasses are ready, and my helmet and race belt are easily accessible on my bike and around the pole.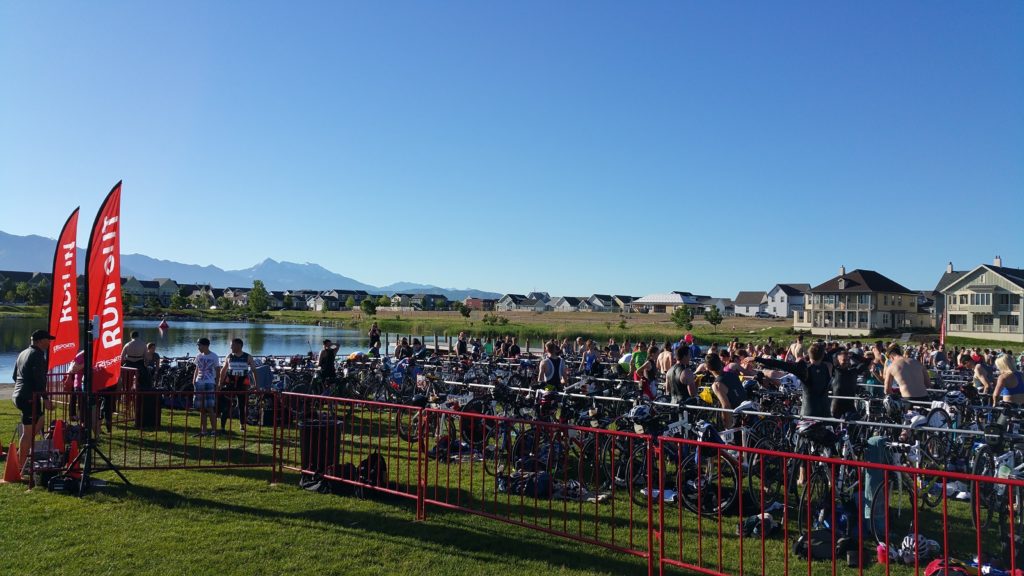 The announcer completes the instructions and asks all competitors to follow a couple people with signs down to starting line for the Olympic and Sprint entry points at Oquirrh lake. I walk down with a friend knowing that I still need to return to get my wetsuit and gear on. We find the starting dock for the swim and walk back to get our gear on. It is almost a quarter of a mile. I didn't think it would be that long. I quickly grab my wetsuit and I slip it on when a lady says that she saw my credit cards sticking out of my bag and shoved them down into the bottom. Only in Utah – right? She is one of the race organizers and helps my zip up my wetsuit so I'm not late for the start.
I run back over and find that they are still finishing the Olympic starts. I cross the bridge and someone yells there goes the pro Ashley Jensen Paulson. I watch the little bobbing head that is Ashley from atop a bridge spanning the lake cruise her way to the front. I walk down to the dock where they will be launching all the Sprint distance athletes and take a quick practice plunge. It is refreshing and the water is the perfect temperature. I have never seen a staggered start before but that is what they are doing today. They log each person into the computer and then say go as they hit a button to give an individual start time to each person. It takes a while to get to my age group. Because I'm excited I jump in as one of the first people in my age group. Holding onto the dock I work my way to the front and get ready for the volunteer to call out "498 – GO!". I push off the dock hard and start swimming. I focus on reaching and stretching to an imagery bar in front of me in the water – similar to how Superman flies.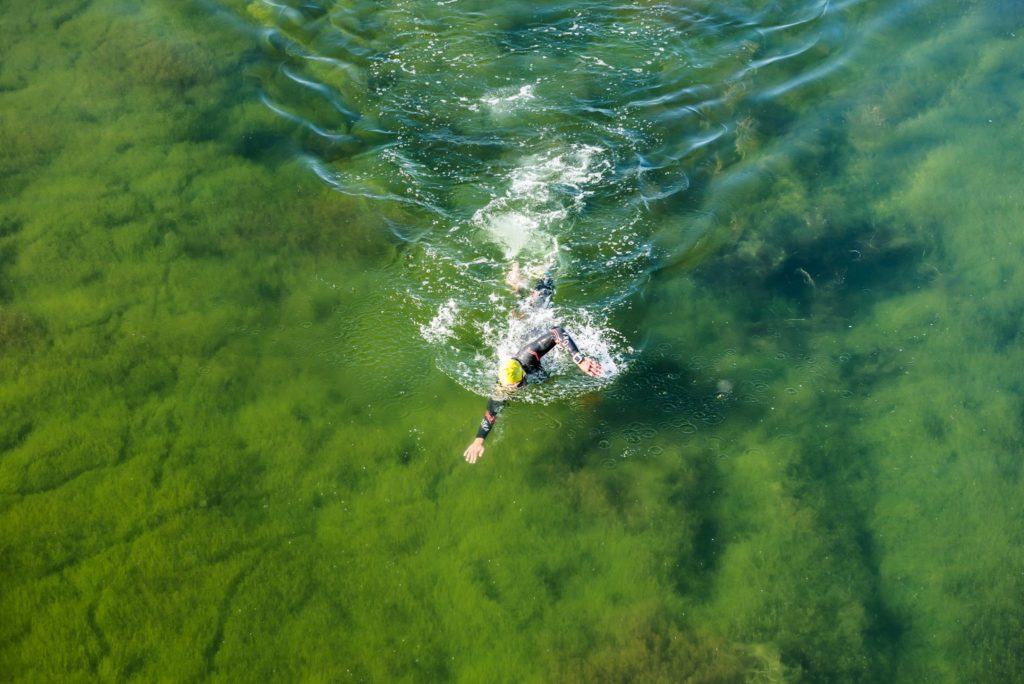 Last race I swam like a T-rex – not getting a full extension forward and pulling my arm out of the water too early before I can get a full extension. Today it is almost like the motion of an ice skater. A whole lot more propulsion and a conscious glide. I'm surprised when I touch the foot of someone in front of me. I veer slightly to avoid crawling over  him or her. I keep swimming and bump into another person that I have caught up to. I think to myself, "Did I just pass someone? Because I DON'T PASS people. I'm the one that usually gets passed. I do it again and again passing one person after another. This is blowing my mind. I am passing people and all of them are in the younger age groups that started before me. I keep focusing on all of the technique Coach Marci from Elevate has taught me over the many months. The wetsuit I borrowed from my friend Allen is working well and keeping me buoyant. I pass some more people and head under one of the bridges. The water temperature drops and there is a very caustic smell emanating up as I swim through. I tilt my head a little farther out of the water to avoid swallowing any of the pollutants. Phew. I made it through the tunnel and head over toward the big red buoy. I get a little too close to the shore and my feet getting tangled in the seaweed (or is it lake weed?). At one point I actually scrape my toes on some rocks and realize when I stand up that I have been swimming in 3 feet of water. I steer myself more toward the buoy and get into a little deeper water.  I round the buoy and head toward the little beach. I see a guy ahead and push hard to catch up to him. He gets out of the water and I notice the number 43 stacked on his right calf. He is in my age group. I jump up and push hard to catch him but stumble a little with my wobbly sea legs. I catch him just as we both leave the beach.
The transition is easy and the wetsuit comes off quickly (probably because it is oversized). I dry my lower body so that water won't drip into my shoes grab my bike and head out of the corral. We are not allowed to mount our bikes until we walk a quarter mile down a cobble stone pathway. I should have just carried my shoes because I'm hobbling on the cobblestones. I noticed earlier that the really seasoned triathletes actually had their shoes already clipped in and then rubber banded to the pedals to keep them upright. I'm sure they just ran without shoes until they reached the road. Although I'm not fast out along the cobblestones I notice another male competitor with 40 stacked on his calf who I pass on the short scurry to the bike.
A small group of us mount our bikes and take off up the road. I look down and realize I hadn't strapped my shoes on. While riding, I reach down and velcro my shoes but decide not to insert the plastic zip strap. Now that my shoes are partially strapped it's time to ride. I immediately start passing people even before we are outside of Daybreak. Most people are coasting through the corners which gives me advantage because I continue to pedal through. The entire first half of the bike portion is uphill. I'm excited about this because even though my awesome bike is not geared properly for hill climbing my legs are ready for the climb. I start passing people. The more I pass the more adrenaline builds and the more I want to pass. I count up the "kills" as I go 1, 2, 3, 4, 6, 10, 12, 18. I wonder how much longer it is going to be before we turn around. I see a much larger hill approaching as we near the turn-off to the Bingham Copper mines. The mines are so large and majestic I just can't help myself – I have to take a photo. I know I shouldn't because I will lose speed but, I grab my phone and take a quick picture as I pedal up toward the entrance of the mines.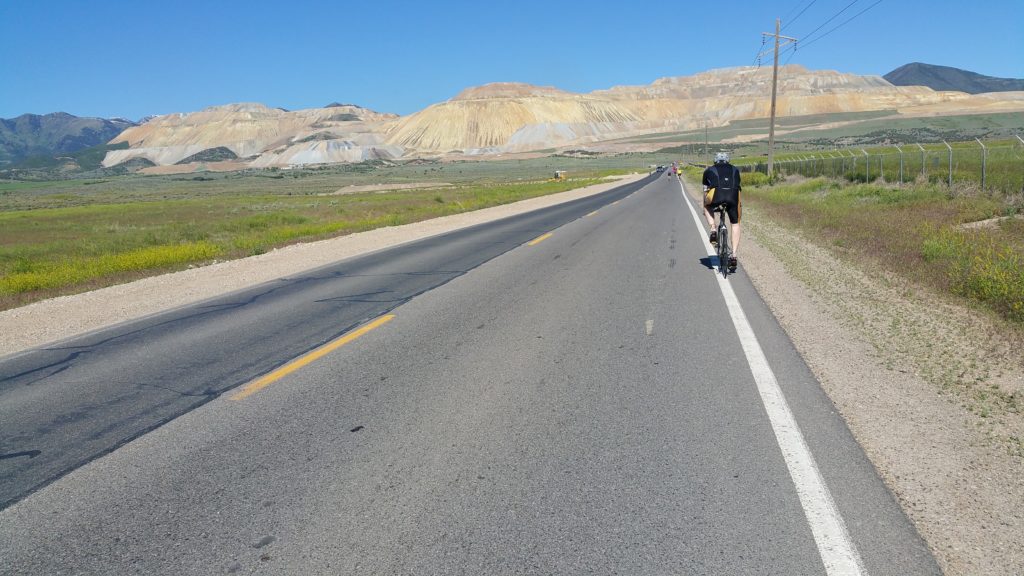 I've passed 26 other competitors so far on the climb and I'm still going strong. Up the last hill I see six more people that I can overtake. I push hard – harder than I have even for all the rest of the ride. My legs push me past the closest rider as I ascend the final and steepest hill. Two more riders are easy to overtake because they are slowing down as I am speeding up. The incline increases and two more fall back. Finally, I make it to the big red sign that reads Rio Tinto | Bingham Canyon Mine | Kennecott Utah Copper. I pass the final rider as I turn around the cone in the middle of the road. I was able to pass 32 total riders on the way up now let's see how many I can pass on the way down.
The immediate speed I gain is intense as I start racing down this same hill that I just ascended. I'm in Aero position and crouch as low as possible to gain minimum wind resistance and maximum speed. I have a water bottle that sits in between the Aero bars and I have to dodge the straw so I can get low enough to really gain speed. I quickly spin-out as my legs can't keep up with gravity nor produce any more power. I think once again about what my friend Dave said about having an insufficient rear gear cassette. I really wish I had the right number of teeth on my small gear so I could pump a few more watts into my rapid descent. My speed is intense and my back is now making a whooshing noise as I zip back toward Daybreak. It isn't the same cool whirring noise that the $15k bikes with the disc wheels make but I can still feel the speed build as I pass another person and continue to accelerate. There is a guy in up ahead of me with approximately the same speed so he becomes the next target. I watch as the hill levels out slightly which means my legs get to reengage. I push hard to catch the speedster ahead of me. He passes a lady and then another. I close the gap between us while passing the same people. I'm now a few hundred yards behind him when I realize that "he" is actually a she and "she" is still cruising. How did I miss this important fact. I think it was because she was in aero position the entire time. Regardless, she is hard to catch. I increase my cadence and make sure that my legs are pulling up as hard as they are pushing down (a lesson I learned from my team at Elevate Fitness while doing Plan 7). I'm right behind her now and gaining with enough speed to pass. I feel a slight twinge of a cramp in my left calf just like at the Salem Spring Triathlon so I let up a little but not a lot. Because of this she increases her lead again. The twinge is gone so I slowly increase my power and mph. This time I catch her. I say, "You are hard to catch." as I pull up next to her.  Seeing me gives her an extra boost of energy and she increases her velocity. I love the feel of the wind as we race back toward Daybreak. The feeling of the speed and her extra boost motivates me even more to push harder and I am able to push past. I decide to push harder still and my left calf cramps fully. I immediately stop pedalling and with my foot clipped into the pedal I stretch my calf as I coast forward. She blows by me as I wait for the cramp to release. As I'm stretching I grab my water bottle and drink about a quarter of the bottle, or about 1 cup. The cramp releases and I start pedalling again. Luckily no one else has passed me besides her. With a cautiously incremental gain I increase my speed and start to catch her again. I don't have much room left to catch up because the city is fast approaching. I pull up to the side of her again and pass her around one of the corners now that we are back into Daybreak. Once I see the finish line and grab my water bottle and start guzzling. I am determined not to cramp on the run. That was my downfall last race.
I come into the finish line hot and have to do some aggressive braking to stop completely before the spray-painted line on the road that reads "DISMOUNT". I unclip and almost fall over. Some kind of metamorphosis has happened in the last 45 minutes – my legs that previously were made of muscle, tendons, and sinew somehow have completely morphed into skin filled bags of Jello. I'm not sure what flavor but it might be the infamous green jello. My legs are so wobbly I don't even think the green jello filling my lower appendages has shaved carrots. It's just plain green jello. In spite of this fact I clomp my way back up the cobblestones to the corral for the final transition. I hope someone was filming it because I wasn't the only person with Jello legs. It would be hilarious to watch us all clumsily wobble back to the transition area. Without our bikes I think the whole lot of us would have fallen over. I guzzle everything left in my water bottle(about 3 cups of water) from the time I dismount until the time I hit the corral. My singular thought is, "No Cramping. I park my bike, swap shoes, throw on my hat and glasses and head out for the last leg of this race.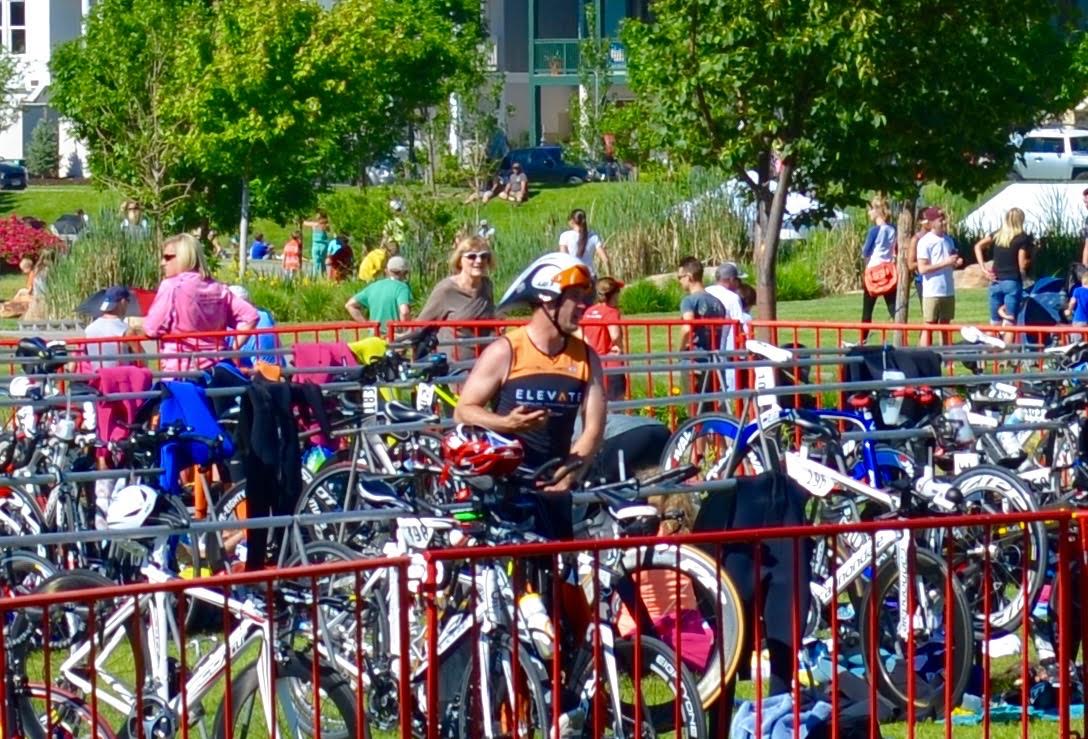 I run up the step and hear, "GO CURTIS!!" being shouted from nearby. There is my lifelong friend TJ Fund taking pictures of me. He came just to watch me. What a great feeling to see and feel the support from TJ. This gave me a mental high.(See Photo)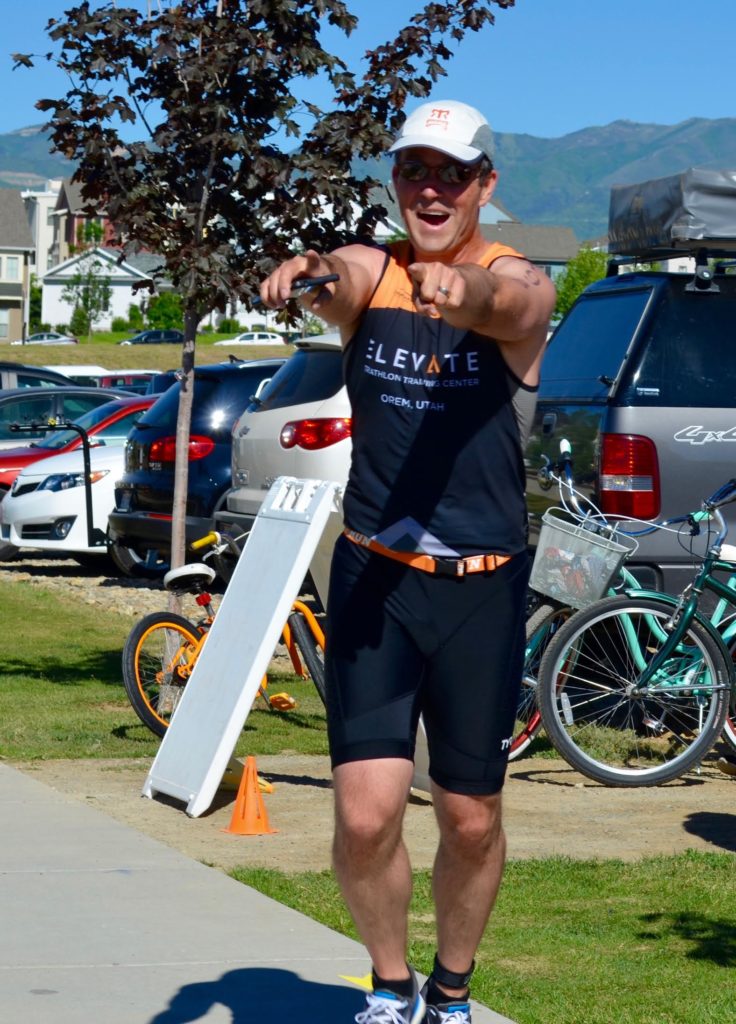 As I pass him I decide to jump down and give him a hug. I know it probably took another :20 seconds off of my time but it's worth it. Then the running begins. I look down at my phone (I don't have a Garmin yet) to check my pace. I'm hoping to beat my time from the last race but, talk about over compensation. Three cups of water in under a minute… What was I thinking?!?!?!
The day is hot and I am feeling bloated and a little nauseated from drinking all of that water in such a short time frame. Holy Cow!! I am going to be slogging the entire way around Oquirrh Lake. I begin to melt like ice cream on a blacktop griddle as the run the progresses. Add the heat and then the water overload and I realize this is going to be more about hanging on than about getting a 5k P.R. I keep pace for only about .5 miles before I start to fade. People are starting to pass me now. At about the 1.5 mile mark I hear a voice from behind say, "Nice job Elevate. Keep it up" because of my jersey. I holler back, "You too SBR." as he passes. I see on his left calf that he is in the olympic division. I know they started 45-50 minutes earlier than I did but that still makes this guy incredibly fast. We circumnavigate the lake. I'm so grateful for how light and breathable my Altra One 2.5s are. I can't imagine wearing some of the old heavy clunkers in my closet on a hot day like today. I pass the two mile mark and can't believe that there is still a mile left. How much more melting is possible. I start the mental game of talking to myself and visualizing the finish line and concentrating on my cadence. That seems to be the biggest thing to bring me back up to speed is getting my cadence at 180 steps per minute. It is hard today. It is really hard. I keep pushing. I keep trying to focus as the dry Utah heat bakes me from the sun above and the asphalt beneath. My gut feels like lead. I find that I'm chastising myself for even letting the thought, "don't walk" enter my head. Of  course I'm not going to walk. With 1/2 mile to go I pull the last bit of energy inside of me and suppress all nauseated impulses and just go. 1/4 mile left and I start to sprint to the finish line. I know it won't be enough to make up for the rest of run but I have to give everything in me and that means sprinting. I cross the finish line and then find that there is another finish line so I speed up again to cross that one.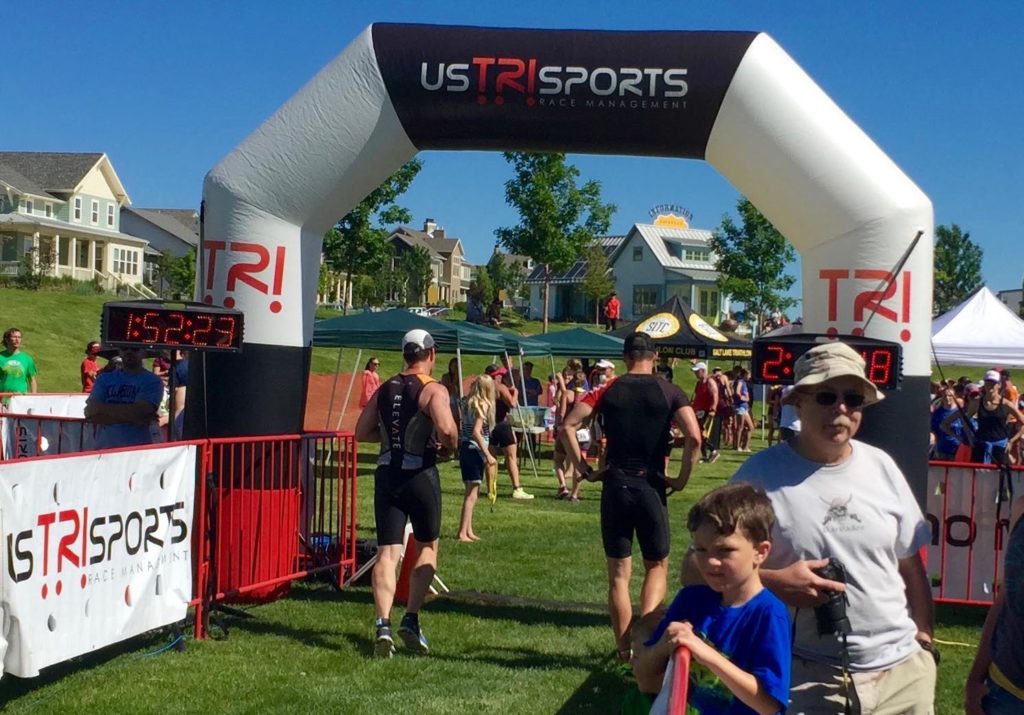 It's done! The race is over! I did it!
After waiting for everyone else to come in I find that I have increased my standing from 13th place at the Salem Spring Tri to 9th place in my age group. The podium is getting closer.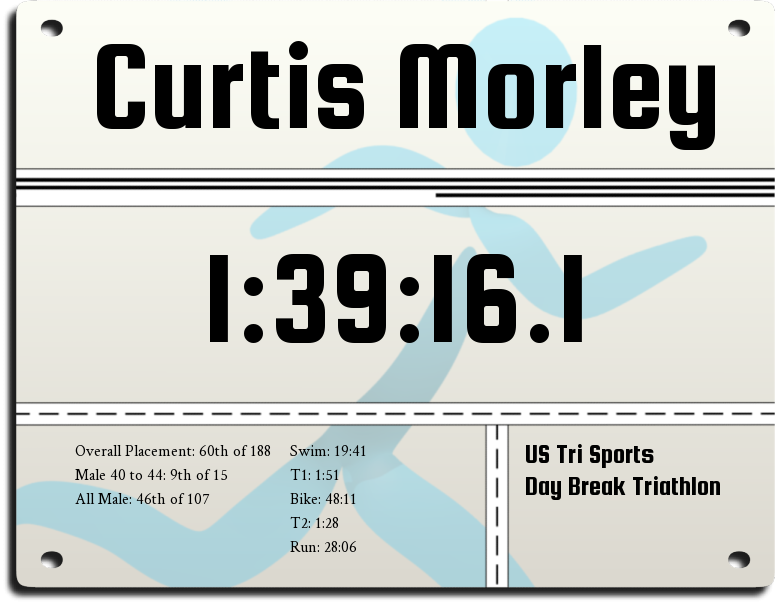 Overall the Daybreak Triathlon felt much smoother, much stronger, and more confident. I really need to figure out the cramping and make sure I still have energy from the bike to the run. I have to say even though I had a disappointing run I loved this race and can't wait for the next one.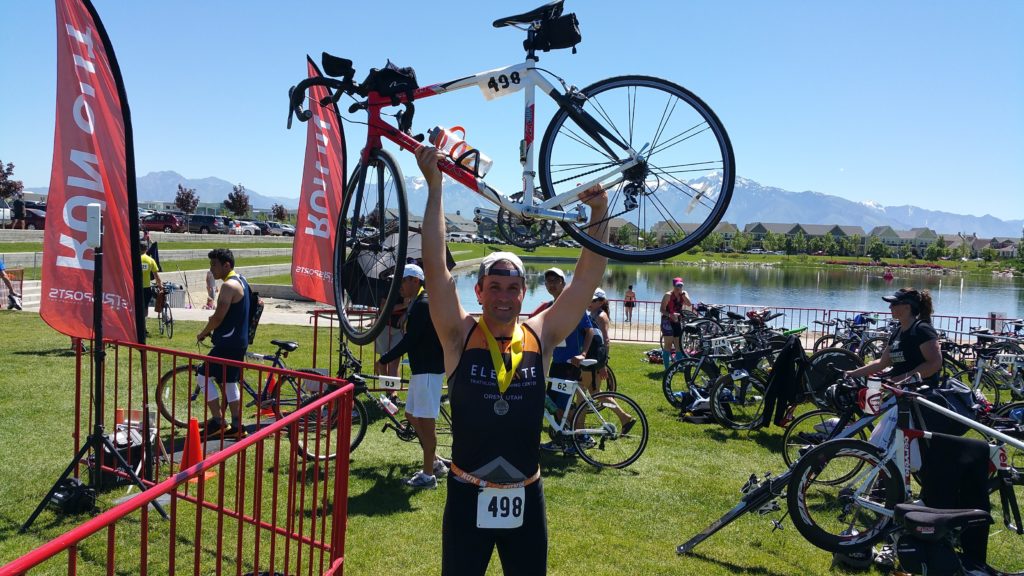 Here are some other fun photos after the race.