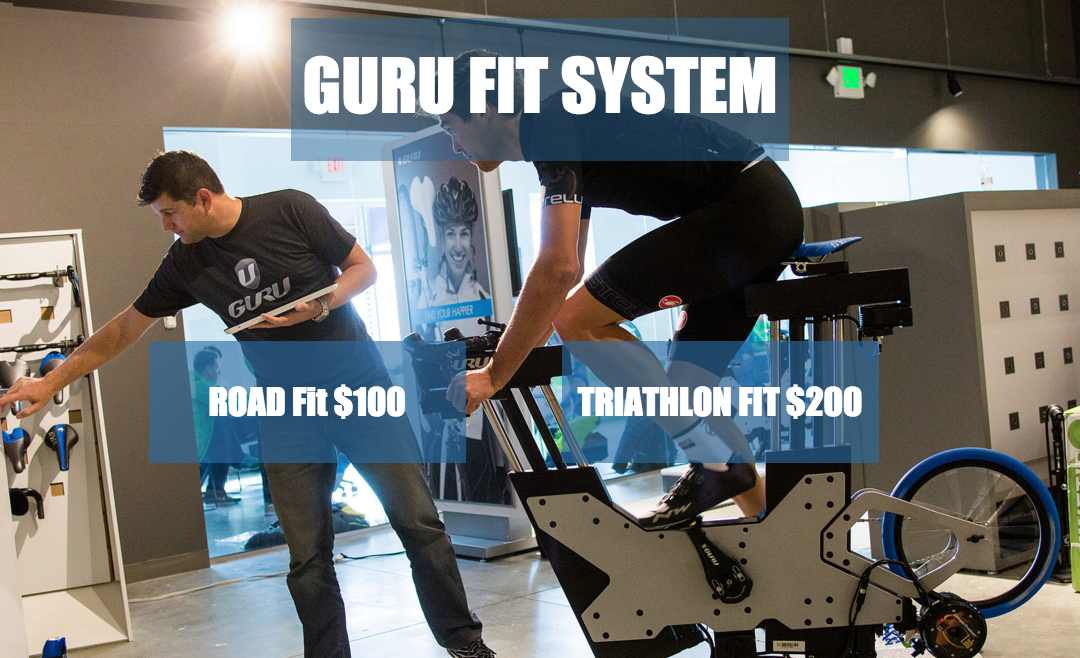 Guru Bike Fit at SBR Cycles
March 11, 2016
If you haven't had your bike fit then you don't know what you're missing.  According to CyclingTips.com there are three groups of people that need a Bike fit.
1. Beginners who aren't familiar with how a bike should fit and feel. An expert consultation will also give you a good reference point of how comfortable a bike should fit going forward.

2. People who can't get comfortable on their current setup or have nagging injuries. A good bike fitting specialist will know how to translate your discomforts into a better setup. Nothing will turn-off someone from cycling quicker than an uncomfortable ride.

3. Competitive cyclists who are looking for marginal gains. There's no doubt that more power can result from tweaking your bike position, however I don't necessarily feel this is the low hanging fruit that should be considered right away if you're not winning races.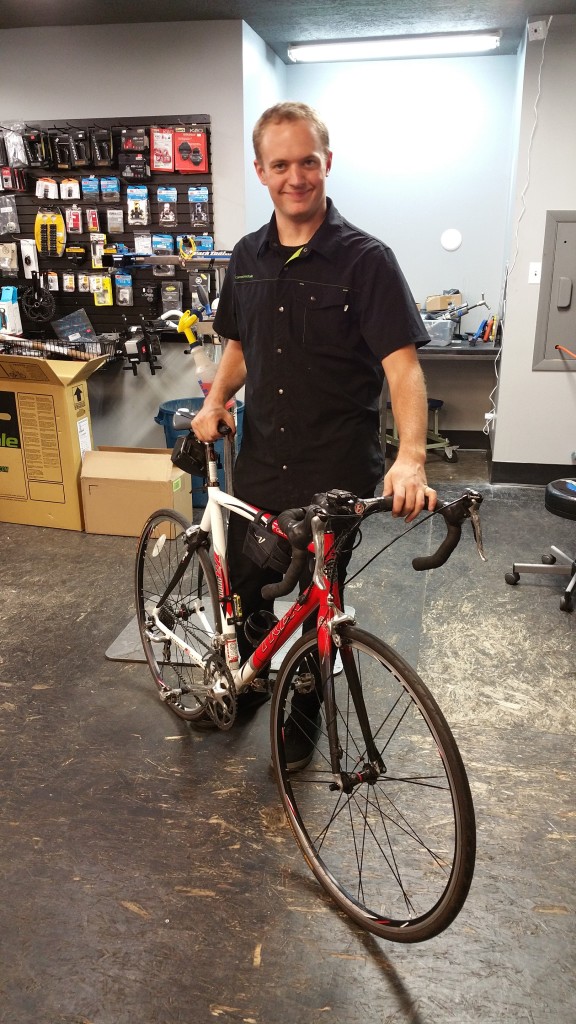 So in essence – everyone. Everyone that cares at all about biking will fall into one of these three categories. I qualified for all three – newbie with an injury(Right knee pain) that wants to be competitive. The article also says that "Little adjustments make a big difference when done in a holistic manner."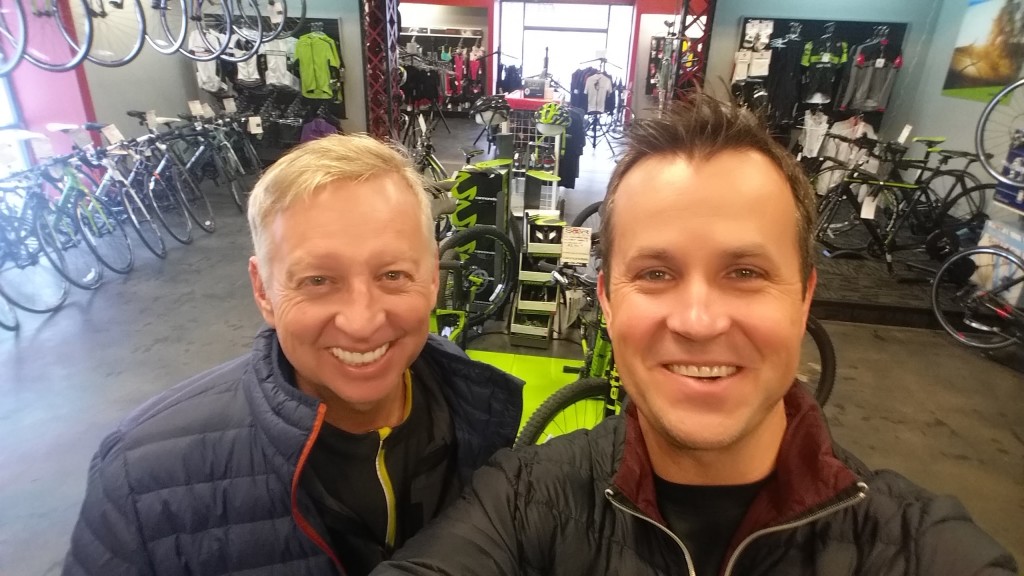 Allan Sumnall, one of the owners of Utah Counties Premier Bike Shop was there to greet me and took me to a very cool room specifically designed for doing the GURU bike fitting. The machine looks like a mechanical bull that only the Terminator would be capable of riding – very futuristic. I knew I was in for a ride when I saw the machine(pun fully intended). On the wall there were several saddles, handlebars, and other adjustables.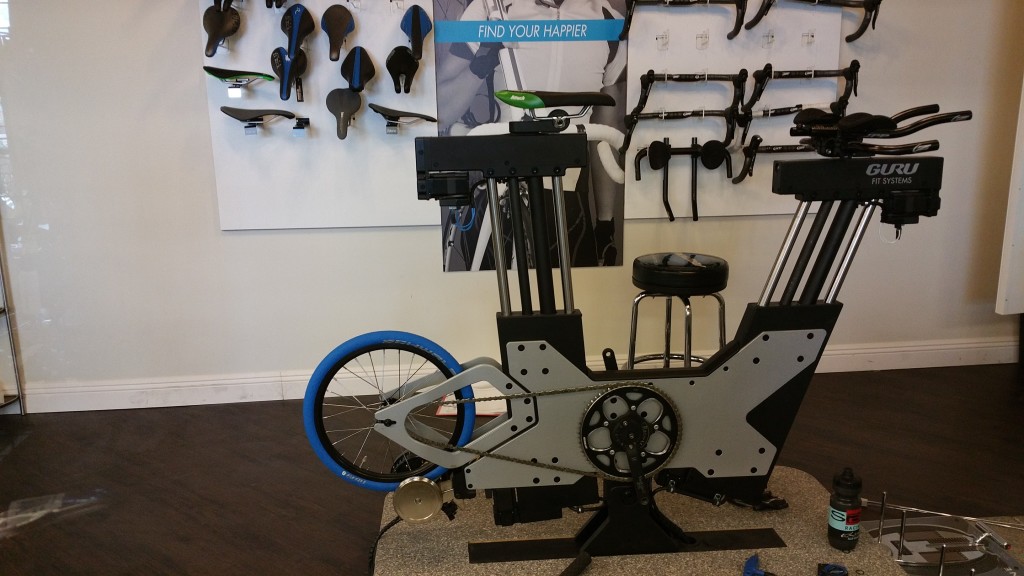 Allan started by finding a seat that he thought would be a good fit. Then started fitting the proper pedals and shoe clips onto the machine to fit my Specialized shoes. I found out through this exercise that my clips are totally old school and that only mountain bikers (but not triathletes) use my kind of clips anymore.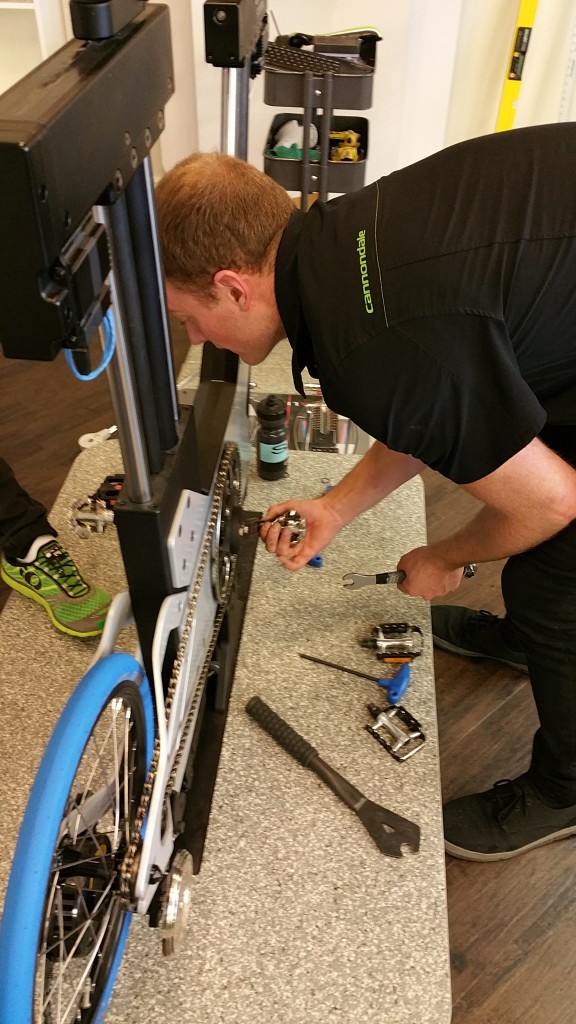 The next step was again very futuristic and fun. The Guru system did a body scan of me. Anyone that has used a newer gaming console like Wii or Xbox will be familiar with this body scanning type system but I have never seen it used in such a practical way. I was impressed by the level of detail about my body it was able to gather.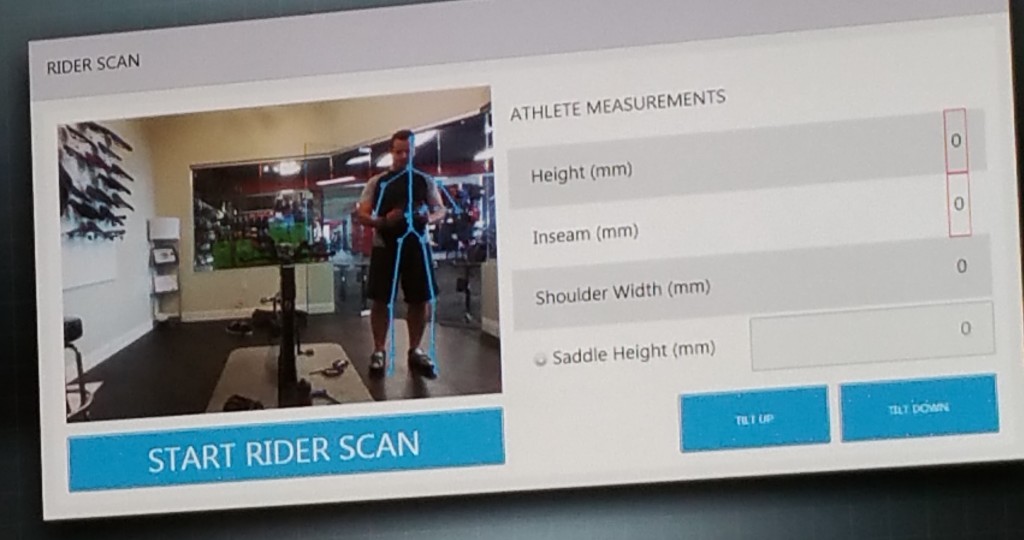 Next it was time to ride. I got on the bike(machine) and do some adjusting. During a traditional bike fitting you are manually measured and then get on the bike and then get off the bike while the fitter(is that what you call them?) adjusts a seat post or a stem or the position of the handlebars over and over again. On the bike, off the bike, small adjustment. On the bike, off the bike another small adjustment. Traditionally you are asked how things feel and then you have to wait for the fitter(that's what I'm calling them) to adjust something and then you get back on the bike and are asked, "How does that feel compared to eight minutes ago before you got off the bike?" How would anyone really be able to compare centimeters of adjustment with that kind of time lapse. With Guru you get immediate feedback and adjustment.
The two pictures below illustrate this perfectly. Notice all of the pistons in this machine. The seat is automatically adjusted…while you are still sitting on it. You don't ever have to get off the bike wait for and adjustment and then try and remember how it felt to give a comparison several minutes later. The adjustments were very simple and I kept asking Allan to go back to the previous setting for a better comparison. With the tap of a finger Allan simply switched back and forth between adjustments. It was super easy. If the feedback hadn't been so immediate I don't think I could have given an accurate assessment of which was better.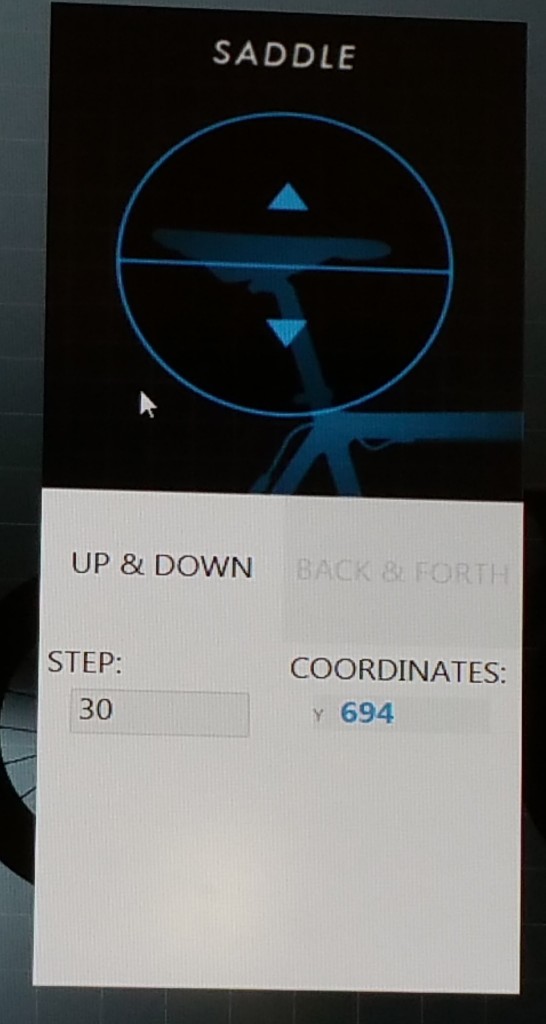 The saddle went up and down, back and forth until it felt right. The handlebars did the same. Behind the scenes the computer was calculating which would be the best bike fit for me. Once everything was set then Allan just had me ride for a while to make sure. I pedaled for about 15 minutes. Allan returned and we did another set of small adjustments. Again I pedaled for another 15 minutes and the adjustments felt more comfortable and stronger.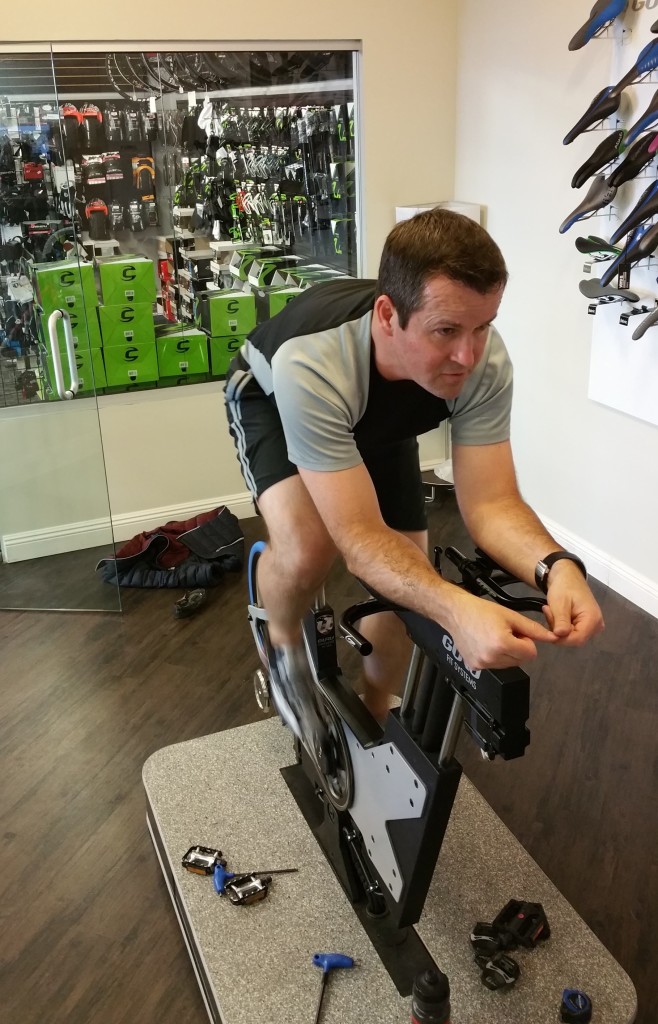 It seems that one of the major factors of getting a bike fitting is comfort. Apparently how comfortable you are on a bike also determines how powerful you can be. This makes sense especially over the long haul.
This is one of my favorite shots. It shows the level of detail that the GURU Bike fit goes into. At the end Allan had all the measurements he needed to fit my bike properly and also which bikes I should look at getting in the future. It had me on a Cervalo P3, or a CannonDale Slice. Both look like great bikes.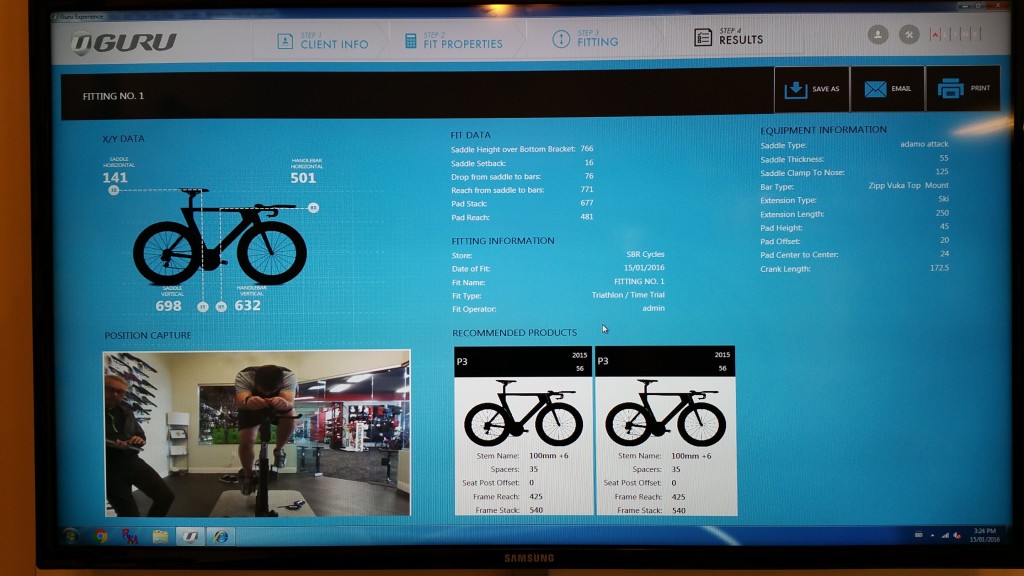 If you need to get a professional bike fitting and don't want to waste hours then this is the place to get it done. Ask for Allan Sumnall or Cory Borup. The cost is between $100-$200. Make sure to tell Allan you saw this article and he will treat you right.
Find out more about the GURU Bike Fitting at:
http://www.sbrutah.com/#!guru-fit-studio/v431i